We are all about reusing and restoring old furniture here at Furniture Restoration Ireland :"You need a new finish not new furniture".
But what if you are just starting our and you don't have any old furniture? Some mass produced companies with their easy build and retro feel can be very appealing. But is that really what you want? Will that stand the test of time? Or do you want are some real unique quality items that will also see you being kind to the environment.
If you choose the later than head down to your local charity shops or flea markets and look at the furniture with a new appreciation for what can be. If you are looking for furniture from a specific era be sure you go out there with a clear vision in your mind, not only for what the furniture should look like, but what the furniture could look like. Create a board on Pinterest if you want. This can help you create and communicate your vision. To qualify as real vintage furniture, it should be at least 30 to 40 years old. Anything more than a 100 years old qualifies as antique.
Two things before you start.
Firstly have a budget for buying the furniture and getting it restored.
Secondly this will not be a quick turnaround, if you want that do go to IKEA. ( then again that place is a maze you may get lost )
So what should you look for when shopping for furniture to restore;
Find a good place. Visit places like Dublin Flea market, auctions car booth sales even try Done Deal. This will give you an idea of what resources are out there and what kind of prices you are likely to pay. Visit them often and keep an eye out for any sales or reductions.
Furniture like cabinets, chests, wardrobes, tables and chairs tend to hold up better over time. Examine it before you make an offer on it- does it have woodworm, damage from storage, hinges missing, drawers not sliding, all things that can help in negotiation of the price. Also all things furniture restoration can fix easily.
Don't let small things like scratches bother you these can be easily fixed. If you are looking at plastic furniture you should be looking out for any cracks or strains.
If you are looking a sofas or upholstered chairs don't be put off by damages material or missing foam. You want to check if it is sturdy and good quality. It is easy to put in new springs, foam and reupholster.
Consider taking pictures of the item and sending it to us to get a quote on the work needed before you buy it. This will give you a good idea on the true price of the item.
Use your imagination. You may see a piece of furniture you can up-cylce or repurpose. That antique coat stand in the bathroom for robes? That coffee table as a night stand ?! Using unique furniture in different place can express your individual style.
Past experience
This piece was recently picked up by our customer at a bargain price at an antique auction.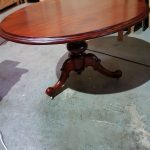 However the pod was loose thus making the table top unstable. We set about making the table structurally sound and completed the work with an over all clean and polish. Such a beautiful table. Keep your eyes open at antique auctions and do not hesitate to contact us for any restoration or repairs that may need to be carried out.